Remember when Gene Simmons said that the music industry was "asleep at the wheel" because it didn't sue "every fresh-faced, freckle-faced college kid who downloaded material"? Well, the KISS mainman paid for those words yesterday (Oct. 13) when two of his websites were attacked by the notorious Internet group, Anonymous.
GeneSimmons.com and SimmonsRecords.com were attacked by the group and had troubles staying online, although both seem to be running smoothly today. Apparently the debate over whether the sites were worth attacking caused ructions in the Anonymous group, who couldn't decide whether he was a worthy target, ultimately causing a splinter faction named the Bureaucracy to undertake the takedown.
This is one of a series of website attacks Anonymous has been conducting against the film and music industries for the past month, and the MPAA and the RIAA have already felt their wrath. See the letter below for a full explanation as to why this group attacked Simmons, and the video above for his original comments about piracy and the music industry's response to to it.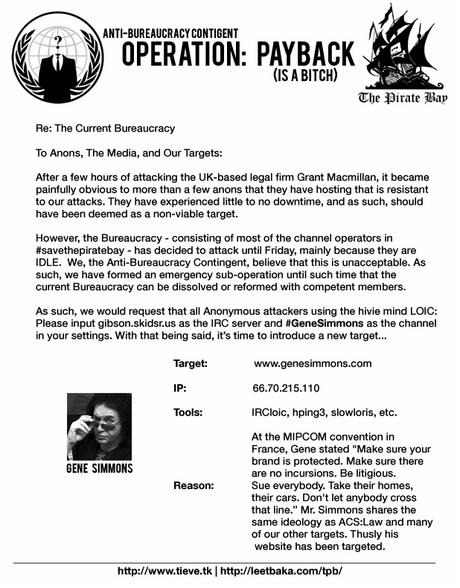 [via The Guradian]