Yesterday, LCD Soundsystem announced they would be sharing two songs at midnight, and they did not disappoint. "Call The Police" and "American Dream" dropped late last night, making waves throughout the web with the excitement of new material from the New York group.
James Murphy posted a lengthy note on Facebook with the singles' announcement, sharing the promising news that the band is "seriously almost done with the LP." Murphy also shared some personal feelings on the new record: "It's been one of the most enjoyable records to make in my life, if not the most fun ever." And while an exact date has not been revealed, it can be assumed the record is being finished as quickly as possible. The band premiered the two new songs during their recent residency at Brooklyn Steel.
The new songs are a continuation of LCD Soundsystem's upbeat, rhythm-forward sound — rich with strained vocal melodies and spacey electronic textures. On "Call The Police," Murphy strikes a political tone, singing, "We all start arguing about the history of the Jews / You got nothing left to lose / Give me the blues." The lyrics appear to be about the rise of the anti-Semitism in the wake of President Trump's election. Musically, the track is a constant ascension with pulsing drums and skyward guitar melodies. "American Dream" has a much more dreamy and psychedelic soundscape. Murphy paints a terrifying scene: "You took acid and looked in the mirror / Watched the beard crawl around on your face."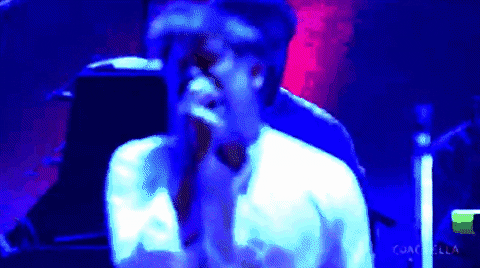 The band plans to tour again soon, but appears to be having difficulty finding a balance between their desire to play intimate venues and scalpers exploiting their fans. "What we also don't want: tickets to our shows being sold for $1,000 on eBay, and people who like our band standing outside crying because they bought some bogus barcode from some shit-heel scalper."
LCD Soundsystem will perform on "Saturday Night Live" for their first time this weekend.
Listen to "Call the Police" / "American Dream" at Amazon, iTunes, and Spotify.