If there's one thing rock stars do better than sex, drugs and, well, rock 'n' roll, it's feuding. Big albums lead to big egos, which, in turn, lead to legendary clashes. This was a juicy year in the world of rock feuds: Month after month, conflicts sprung up all over the place from the most unlikely of sources. Here's a look back at an especially fruitful year in beef, the 10 feuds we think typified the state of things, listed chronologically. (Did we overlook anything? In the comments below, let us know what your favorite fray was this year.)
Miley Cyrus vs. Radiohead
Earlier this year, teen superstar Miley Cyrus launched a hilarious media crusade against moody experimental rock act Radiohead. The tiff stemmed from a misunderstanding backstage at the Grammys in February. Cyrus begged her management to arrange a meet-and-greet with the band. When a spokesperson for the band turned down her request, Miley went public with her anger and disappointment about the rejection, claiming in a post-show interview that she immediately left the Grammys after the rejection, skipping their performance in a huff and promising to "ruin them."
Winner: Radiohead. Days later the band released this statement to the press: "When Miley grows up, she'll learn not to have a sense of entitlement."
The Flaming Lips vs. The Arcade Fire
In an interview in March, Flaming Lips singer Wayne Coyne inexplicably lashed out at the Arcade Fire for pompousness and mistreatment of their audience and crew, calling them "a bunch of pricks." It was a shock to everyone, including the Arcade Fire's Win Butler. In a snarky but gentlemanly retort on his band's website, Butler claimed to have only had the briefest interaction with Coyne, who, himself, was rather frosty. Butler went on to insinuate that Wayne might be a poor judge of character, citing past interviews where he praised or criticized people he scarcely knew. Coyne would later apologize for his remarks.
Winner: The Arcade Fire. Coyne's apology was full of backpedaling and seemingly disingenuous praise. But Butler stuck to his guns, kept the name-calling to a minimum and came out looking like a prince.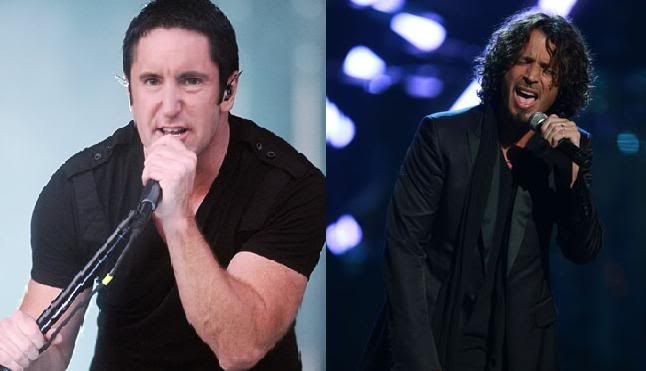 Trent Reznor vs. Chris Cornell
Scream sucked. Chris Cornell's Timbaland-produced, radio-baiting debacle was easily one of the year's worst albums. Nine Inch Nails' Trent Reznor called Cornell out about it on Twitter, saying the record was so bad it embarrassed him to listen to it. Cornell responded with a dismissive What-Would-Jesus-Do remark, and Reznor sealed the deal with a mock solo album announcement. Strobe Light, also to be produced by Timbaland, touted made-up tracks like "Pussygrinder (ft. Sheryl Crow)." For all his bluster, Cornell appears to have taken the criticism to heart; a Timbo-free redux of Scream is reportedly in the works.
Winner: Reznor. Other Strobe Light song titles included "Even Closer (ft. Justin Timberlake & Maynard James Keenan)" and "Still Hurts (ft. Alicia Keys)."
Eminem vs. Mariah Carey
Industry rule No. 4081: Thou shalt not mess with Eminem. Many have dared to engage him in a war of words, but few have come out with dignity intact. Mariah Carey and Eminem's rumored romance is old news, but it came up again in a vulgar tirade during "Bagpipes from Baghdad" off Em's comeback record, Relapse. Carey, clearly displeased with the attack, responded swiftly and directly with her new album's first single, "Obsessed," and personally parodied Eminem in the video. Eminem hit back with the scathing "Warning," an open declaration of war on Carey and her new husband, former MTV personality Nick Cannon.
Winner: Eminem. "Warning" was an ultimatum. If Carey's camp didn't back down, he would release whatever audio, footage and photos he had leftover from their brief fling. Carey's subsequent silence is deafening.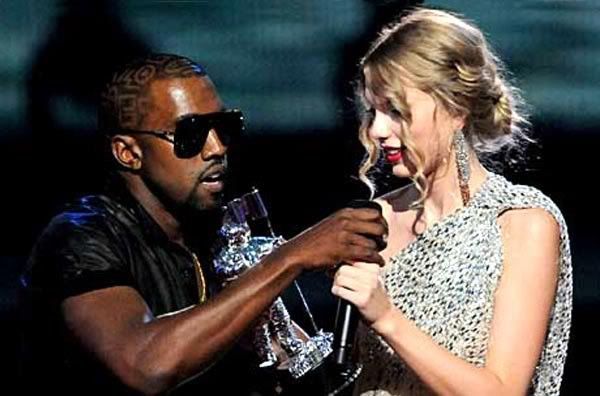 Kanye West vs. Everyone
Everyone knows about Kanye West's drunken gaffe during Taylor Swift's VMAs acceptance speech. Beyonce should've won that award, but 'Ye was way out of line. The strange part of the story is how quickly and intensely the wolves came out. People couldn't even wait until the show was over to call names. Twitter was ablaze with outrage. Celebrities of every stripe checked in to show their disgust. Former President Jimmy Carter weighed in. Barack Obama called Kanye a jackass in an interview. The man was the butt of every joke on the Internet for a cool month. Me, I'm calling shenanigans. Rumor has it 'Ye and Swift share an agent.

Winner: Taylor Swift. Shameless publicity stunt or no, the story worked wonders for her national notoriety and aw-shucks Southern charm.
Noel Gallagher vs. Liam Gallagher
Internal strife is nothing new to Oasis's fighting Gallagher brothers. Singer Liam famously called in sick to the band's MTV Unplugged taping, only to heckle chief songwriter-guitarist Noel from the balcony as he timidly assumed his brother's vocal duties. Noel finally had enough after a scuffle in August and announced he was leaving the band, stating on the band's website that he "simply could not go on working with Liam a day longer." Liam, never one to be upstaged in a media fracas, would retort, "He doesn't like me and I don't like him, that's it." Liam wisely busted up the band in the wake of Noel's departure.

Winner: Noel. Please have a Grohl-esque stash of awesome songs Liam wouldn't sing.
Lily Allen vs. Music Piracy
U.K. pop songstress Lily Allen waged war against music piracy in the press in September. The first salvo came in the form of a lengthy tirade on her MySpace page in response to what she perceived to be an endorsement of illegal file sharing by the Feature Artists Coalition, an artists' rights group composed of numerous British rock luminaries. The group, whose membership includes Billy Bragg, Annie Lennox and members of Blur, Pink Floyd and Radiohead, called file-sharing the modern equivalent of trading mixtapes. The FAC clarified its statement, replying that while file-sharing does help circulate music, the group does not support the practice. Allen started a blog informing people of the ills of file-sharing, inciting a wave of negative feedback from the likes of Shakira, Nelly Furtado and hundreds of anonymous net users.
Winner: Illegal downloaders. Allen dismantled the site after four days, complaining that she was receiving "too much abuse."
Steven Tyler vs. Aerosmith
Aerosmith lead singer Steven Tyler's spill during a show earlier this year meant the end of the band's summer tour. The injury also sent Tyler thundering through the all-too-familiar cycle of drug dependence and rehabilitation. Tyler has since expressed his desire to take time off to "concentrate on Brand Tyler." But Joe Perry and the rest of the band had been gearing up to tour and record their 15th studio album. Perry publicly announced that Tyler quit the group, precipitating a very public spat between rock's "Toxic Twins." Tyler recently crashed a Joe Perry Project gig for a rendition of "Walk This Way," announcing that he's not leaving the group. So why is Joe still looking for a new singer?
Winner: No one. The prospect of a Steven Tyler solo album isn't all that titillating in 2009. And everyone knows how Velvet Revolver, Audioslave and Van Hagar ended. There's a saying about sums and parts and wholes that suddenly escapes me…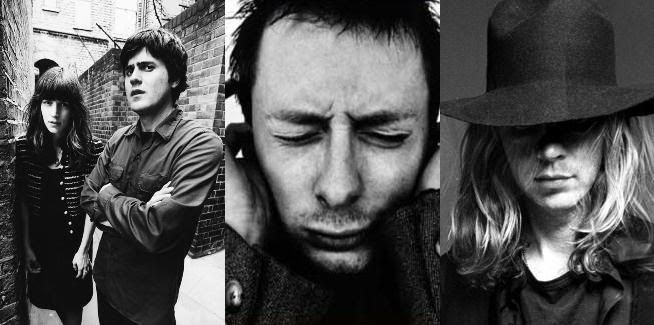 The Fiery Furnaces vs. Radiohead and Beck
In the downtime following their latest album, the members of Radiohead released a couple of one-off singles to the public, beginning with "Harry Patch (In Memory Of)," which was inspired by the recent passing of Britain's oldest living World War I veteran. The Fiery Furnaces' Matt Friedberger, thinking the song was about avant-garde composer Harry Partch, railed against Radiohead for being esoteric and questing to be cool. Friedberger later addressed his mistake, pawning the misunderstanding off as a joke, but adding that he still hated the band. Friedberger inexplicably slammed Beck in the response as well. Radiohead has remained mum on the subject, but Beck slyly released a 10-minute track called "Harry Partch," which employs Partch's trademark 43-tone scale.

Winner: Beck. "Harry Partch" manages to be funny, condescending, and awesome all at once. And it sounds too much like classic Furnaces to be taken as anything other than a direct dig.
Beanie Sigel vs. Jay-Z
Jay-Z discovered Beanie Sigel kicking around the underground rap scene in the late '90's, signed him to Roc-A-Fella Records and footed the bill for a litany of critically lauded, modest-selling solo albums from the Philadelphia MC. In November, Sigel came out of the wild blue yonder with "What You Talkin' 'Bout," a barrage of accusations and gripes about his label boss and mentor. Sigel claimed that Jay caused his bail to be denied after a recent arrest and is more interested in making money than being a friend. Beanie chased "What You Talkin' 'Bout" with two more diss tracks and is in negotiations to ink a new deal with known Jay-Z detractor, 50 Cent. Jay has graciously kept his thoughts off wax so far.
Winner: Jay-Z. Quoth Jigga, "Sigel had a record deal, a record label, and a clothing line — and never went platinum, ever…I don't even know what more can you do for a person at that point."
***
What do you think was the biggest feud of 2009? Let us know in the comments below.